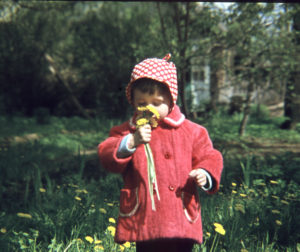 I vividly remember my childhood from a very young age, often thinking about events, people, and how they affected who I am today.
When I was 7, I decided to become a teacher. I taught my first class to my dolls and toys.
When I was in high school, I volunteered at a preschool. After high school, I attended and graduated from Pedagogical College. I continued my education when my husband and I moved to the United States. I was lucky to discover a progressive and developmental school where I worked, taught, and also learned.
One day, we decided to invite a speaker to present at the school where I worked. She happened to be  RIE Associate – Erica Orosco Cruz. When Erica started presenting, her speech made me nod, but only when she recited her personal experience and examples. I realized that I was very intrigued and wanted to learn more.
Consequently, I enrolled in a RIE Foundation class in Hollywood. My teachers were Elizabeth Memel and Melani Ladygo. This decision changed my entire life. Not only did it change my professional life, but it also helped me become a more authentic individual and find my equilibrium in life. I continued my internship with Ruth Anne Hammond and Deborah Solomon. They gave me great opportunities to discover the Educaring Approach layer by layer, with plenty of tarry time. Teaching RIE® Parent-Infant Guidance™ classes became my best job.
Now I teach RIE® Parent-Infant Guidance™ classes, and workshops.   In addition, I am also available for private consultation.
I published my first book, "Toby is My Bear", as part of a conflict resolution series for preschoolers, and I have a blog about conflicts with toddlers and preschoolers.
Let me know if you need more information about RIE® Parent-Infant Guidance™ Classes.
Wishing you all the best in the difficult yet exciting journey of parenting!
Warmly,
Teacher Kira