We all hope and wish that our children will develop a love for learning.
But what if they don't?
What if they find their classes boring?
What if they refuse to pay attention in class?
What if homework becomes a dreadful chore?
As teachers or parents, we grapple with when and how to respond to these challenges. Have you ever encountered a child who simply refuses to adhere to the classroom routine? Do you ignore it or address it directly? What should you do?
Challenging situation
I once had a student in my class who exhibited these behaviors. He frequently spoke out of turn, often blurting out whatever crossed his mind while the teacher was speaking. One day, he walked into class with his head hanging low, and his mother complained to me that her son no longer wanted to attend class due to its monotony. He had grown tired of learning the basics of the alphabet.
Traditional way
Listening to the concerned mother, I pondered how I could best approach both the child and the mother to alleviate their concerns. I contemplated two options: lecturing the child or disregarding his thoughts and continuing with the curriculum. Then it dawned on me that he had likely heard countless admonitions like "you should," "you must," "you need," and "you better." Instead of acting immediately, I decided to take a step back and adopt a more observant and empathetic approach.
Child's interest
With these thoughts in mind, I entered the room where the boy was and asked him how his morning had been. He expressed his frustration, explaining that he was upset because he had to leave his Legos at home. In a genuine surprise, I replied, "You have Legos?" Instantly, he lifted his head and enthusiastically began sharing details about his Legos. I had struck a chord! There was no need to confront him about his boredom. I had stumbled upon a subject that was close to his heart. I then suggested, "Why don't you bring your Legos to class one day?"
The response I received from him was one of sheer delight. He beamed with a smile and asked if he could bring his creations to the next class. I readily agreed.
The following week, he proudly showcased his Lego masterpiece and actively engaged in our class. A simple gesture had completely transformed his attitude.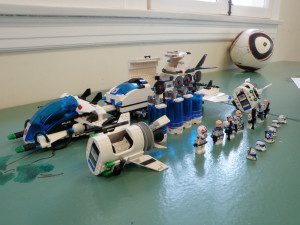 *Photo: One of our students' Lego creations.
What, in your opinion, was the key to this transformation?
I would say the key was building a relationship, discovering the child's interests, and listening with genuine interest. Armed with this knowledge, you can incorporate the child's expertise in a particular area into the classroom or home environment, enabling them to take ownership of their space and how they interact within it.
Do you have similar stories to share?
Cheers,
Gilda