To Punish or Not to Punish?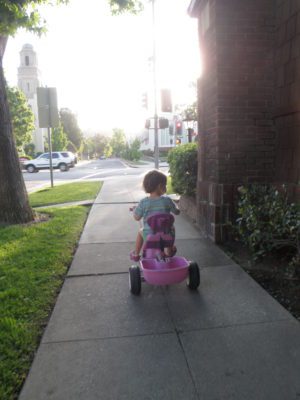 "Yesterday, for the first time I spanked my daughter! Horror! I still get goose bumps thinking about the incident. At the same time, I was calming my mother down, offering her my calmness even though I was boiling inside.
Let me start from the beginning:
My daughter, Kate went for a walk yesterday with her grandmother (my mother). It was summer; flowers were in bloom, there were no children in the park, so Kate and Grandma decided to take a small bike ride. They walked with the bike and observed fish ponds. Kate would pedal a bit and stop, waiting for Grandma to catch up.

This was a pedestrian safe zone: playgrounds, soccer fields, baseball fields, and bike paths. It was hot, so Kate and Grandma felt tired and turned back towards home. Suddenly my daughter changed course, she left Grandma, and pedaled away as fast as she could without stopping or turning around. Grandma ran after her. She cried, 'Stop! Stop!' No response. The pedestrian zone ended and the busy road was just around the corner! My mother could not see her granddaughter. She ran, but could not catch up with her. Grandma finally reached Kate at the entrance to our home.
When I opened the door, I saw two crying people: Grandma with trembling hands and Kate complaining that Grandma had scolded her. When I realized what had happened, I was already ill! How Kate crossed the busy street – nobody knows. She said that she waited until there were no cars. Then I could only hope that she traveled on the sidewalk along the road to our house. We have heavy traffic around our place.
Out of fear, I spanked Kate and put her in a corner. Soon of course I gave Kate a drink of water and a hug. She cried and promised she would not do that anymore. My daughter is only 3 1/2 years old!
In the evening when Grandma called, Kate answered the phone. Kate immediately said, 'I will not do that again!' It was great stress for all of us; at night we slept poorly.
What would you do if you were in my shoes? Would you punish your children or remain calm?
Do you punish your children?"
Photo: My friend's daughter role playing for the story.
A mother once wrote this to me feeling confused, sad, looking for advice…
How would you reply to her?

Wishing you all the best in the difficult yet exciting journey of parenting!
Cheers,
Teacher Kira